Apply strategies to
overcome your most complex

business and professional challenges.
Consulting & Advisory Services
Rapid Strategic Planning, Feet to Fire Accountability©, Powerful Implementation
Consulting & Advisory Services
Coaching
Executive Coaching, Rapid Alignment, Consultant Coaching
Speaking
Apply strategies to overcome your most complex business and professional challenges.
Feet to the Fire: How to Exemplify and Create the Accountability That Creates Great Companies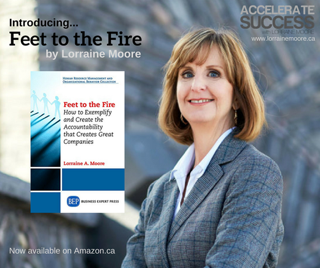 "Feet to the Fire is the perfect read for any leader who is looking to build a more effective and meaningful leadership approach. Leaders at any level can learn something from Lorraine's coaching skills. Her expertise on inspiring and guiding others, executing core principles and leading more effectively is beneficial for all executives. Feet to the Fire reinforces the importance of innovation when forging our way through a challenging economic climate."
– Richard Scott, President and CEO, All Weather Windows"
Lorraine's expertise and talents create unprecedented outcomes for organizations and individuals. Her seminal work in inspired leadership delivers game changing outcomes. A thought leader in strategic speed, innovation and executive performance, Lorraine is sought out to contribute to the transformation of companies and individuals. Inductee into the Million Dollar Consulting Hall of Fame and author of the forthcoming books, Feet to the Fire©, How to Exemplify and Create the Accountability That Creates Great Companies, and 360 Degree CEO©, Lorraine's clients benefit from her experience as a corporate executive. At TD Bank, 19th largest bank in the world, Lorraine was a member of the executive team who led the largest financial services merger in North American history. While at TransCanada, she was an integral contributor on the small team who led the successful first phase of Keystone pipeline.
In September, I had the wonderful opportunity to conduct business in Iceland. More and more [...]
In many of my client engagements, I assist organizations that wish to create a culture of accountability. While everyone quickly grasps what it means to hold someone's feet to the fire (and how that contributes to a culture of accountability) they are sometimes surprised to learn that the finger they are pointing to others, is first and foremost, pointing back at them...
Are you playing offense or defense? One need not be a sports aficionado to understand the nuances of approaching your business and/or your life from an offensive or defensive position. Advancements in technology, decades of global trade, pending tax reform and more sophisticated and dividend-hungry shareholders are...
Lorraine has a unique ability to combine her skills and experience with intuition, humour and insight to "coach" you through seemingly challenging career/life decisions, with grace. Lorraine understands human dynamics, business strategy and execution – a perfect combination for leadership coaching. Thank you Lorraine!
"Lorraine is a skilled facilitator and an astute business coach.  Her approach enables executives to improve strategic thinking and find solutions.  In my experiences with her over the last two years she has consistently demonstrated the rare ability to listen assertively, and then tactfully and diplomatically ask the appropriate and critical questions that enable focus to be directed toward the essential issues.  It is from that focus that solutions emerge."
"Lorraine has the ability to respectfully and compassionately challenge you. She handles resistance in a way that is professional, respectful, appropriate and necessary…. very, very consistent."
SUBSCRIBE TO MY MAILING LIST TODAY!