In many of my client engagements, I assist organizations that wish to create a culture of accountability.  While everyone quickly grasps what it means to hold someone's feet to the fire (and how that contributes to a culture of accountability) they are sometimes surprised to learn that the finger they are pointing to others, is first and foremost, pointing back at them.
As leaders, the most rapid and the most sustained way to create a culture of accountability is to first hold yourself to a high level of account.
Go inside.

Acknowledge your motivations, your strengths, and your areas of development.
Are you still passionate about what you are doing?

Explore outside.

Understand your personal brand – through the lens of others.
Uncover your blind spots.

Do what you say you will – consistently.
Change course when you need to.

Have you occupied that office for too long?
Has your interest waned?
Has your professional growth slowed or stalled?

Accept change that is imposed on you – with grace, when in public. This can be a new boss or board chair, a black swan event, an unexpected acquisition or a termination.
Be known for holding others accountable – to the same high standards that you hold yourself.

Do not delay in addressing performance issues.
Do not delay in holding difficult discussions.
Be transparent when you have made an error. Share what you learned.

Don't settle. When it feels very, very comfortable and you know it, stretch.

Take the risk, make a right turn or take the leap. It truly is what we do not try that we regret, not the chances we take that land us short of our goal.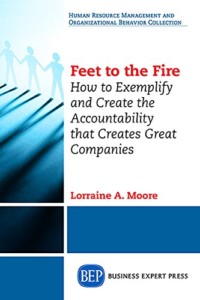 Want to delve deeper into creating a culture of accountability? Pick up a copy of my book, Feet to the Fire: How to Exemplify and Create the Accountability that Creates Great Companies  available on Amazon.
My clients accelerate their results – increasing profitability, leadership performance, innovation, and accountability. I would love to discuss how I might contribute to your culture of accountability. Contact me today.
If you found this beneficial, click here to sign up for my newsletter or share via social media below.